Okay so we love bicycles right, who here doesn't? That's why you're reading this blog. But how about we give you some quirky and fun facts about bicycles or cycling facts that you may or may not know and join us in ticking them off and count how many do you already know?
Cycling Fact 1 - The origin of bicycles.
The story of bicycles came about from a long long time ago, back around 200 years ago, in 1817 when a certain German Baron named Karl Von Drais wanted to get around town without the his horse carriage. He invented, a two-wheeled vehicle without any pedals and it is moved by pushing your feet against the ground (sorta like the Flintstones). This invention is the precursor of modern-day bicycle and it became known as the "draisine" which is its nickname for the hobby horse or dandy horse.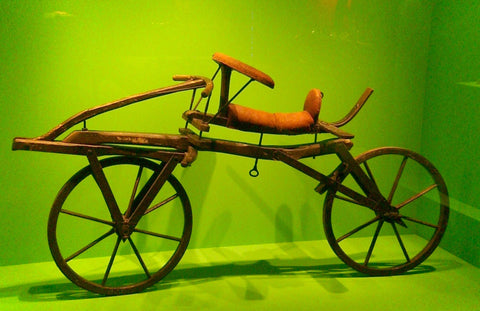 The Draisine – Source: Wikimedia.org
Cycling Fact 2 - Bicycles in the East
Bikes first entered China back in 1800's and they instantly became a hit with the Chinese people who find it convenient to travel using the bicycle. This trend didn't disappear even now as now over half-a-billion bicycles are used in the country.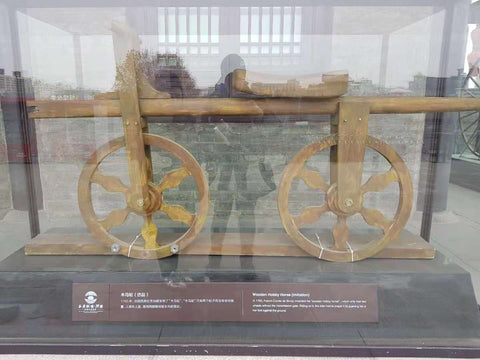 China Draisine – Xian City Wall Display. Source: Hygporium
More interesting however is the not-so-recent phenomena now where there was a boom in bike-sharing companies who offer their services in different big cities in China. However, supply outmatched the market and as a result overtime there are excess supply of this sharing bike which became unused. As companies are acquired or become bankrupt, the leftover sharing bikes are collected into a so called "bike-sharing graveyard". See the picture below, it's not some sort of artwork. It's a drone / bird's eye view photo of the graveyard. Unbeilieveable!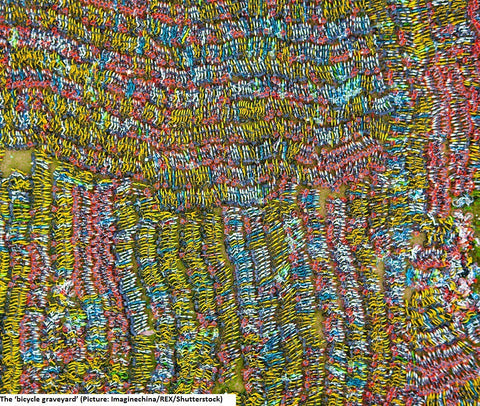 The "bicycle graveyard". Source: Imagechina/REX/Shutterstock.
If you don't believe us, check out this youtube video here 
Cycling Fact 3 - Most Expensive Bicycle
What do you think would be the most expensive bicycle ever made? You would think that it's some kind of lightweight, space-age alloy construction for some champion cyclist out there. But nope, it's actually the other way around, it's probably not one of the most functional bicycle ever. But we like it, it's got a lot of street cred. The most expensive bicycle ever made is the 24K Gold Extreme Mountain Bike made by House of Solid Gold, with a price tag of $1 Million Dollars. It's not going to help you out in the mountain but sure will probably be a good permanent display in your garage… or middle of the living room.
24K Gold Extreme Mountain Bike by House of Solid Gold. Source: Bikerumor.com
Cycling Fact 4 – The fastest bicycle speed world record
The fastest bicycle speed world record at the time of this writing is held by Denise Mueller Korenek who achieved a remarkable speed of 183.9 miles per hour on a bicycle using the slipstream created by a race car. For a context of how fast the speed is, that speed is twice as fast as a Cheetah's top speed.
Top Bicycle Speed Record. Source: CNN.com
But hang onto your helmets, there's another guy who is vying for the Bicycle Top Speed Record, and his name is Neil Campbell who wants to achieve at least 200 miles per hour in the Salt Lakes of Utah. He already achieved a speed of 178 miles per hour in a tarmac, So watch this space as he tries to tackle the Bicycle Top Speed Record in Salt Lakes of Utah next.
Cycling Fact 5 – The world's longest bike
The world's longest bicycle is 155 feet and 8 inches long, and created by a man called Bernie Ryans from Paynesville, Australia as of November 2020. To qualify for this record, the bicycle needs to travel for 100 meters with the riders feet not touching the ground. The previous record of the longest bicycle was held by Australians too, namely company called Santos and the University of South Australia at 135 feet and 10.7 inches long.
Bernie Ryans & World's Longest Bicycle. Source: Facebook.com
Well there you go, 5 fun facts about cycling that you may or may not know. How many do you know? If you know all 5 of them give yourself a high-five. If you like this content, let us know by leaving a comment at our Facebook page or share this post to your friends and make their day because in Hygporium, we are for the cyclists. Let's start a riding movement that is not only better for your health and fitness, but also good for the environment and your pocket books. To the Cyclist!